Roccat impressed us so much with last years Vulcan 120 AIMO, that we just had to take a look at their newly released Vulcan 122 AIMO for 2019. To be perfectly honest with you, not much has changed. It still uses the same Titan switches, has the same kind of AIMO illumination and will still absolutely rock any gaming setup. The differences are subtle, but still manages to keep this keyboard feeling fresh.
It mostly comes down to design. This time around Roccat have used a much cleaner design. The original Vulcan 120 AIMO sat in a gunmetal aluminium tray and was housed inside of a plastic body. This time round, Roccat have used an aluminium case. We were sent the white version, which I must say is my absolute favourite. But if you're more of a fan of the gunmetal type finish, then Roccat has you covered too.

The benefit again is the fact that Roccat have opted for raised keycaps, which helps with things like cleanliness. It took no time at all to get a small cotton bud, or Q-Tip if you're American in between and under each key. Add a few small bursts of compressed air, and it'll be looking as clean as the day you bought it.
Just like before as we mentioned, the Roccat Vulcan 122 AIMO gaming keyboard is using Roccat's very own Titan switches which promise a significant reduction in what's known as 'key bounce' which enables to keyboard to recognise inputs up to 20% faster than other switches. There's a 1.8mm actuation point and a maximum 3.6mm travel distance which is pretty impressive, although not ground breaking.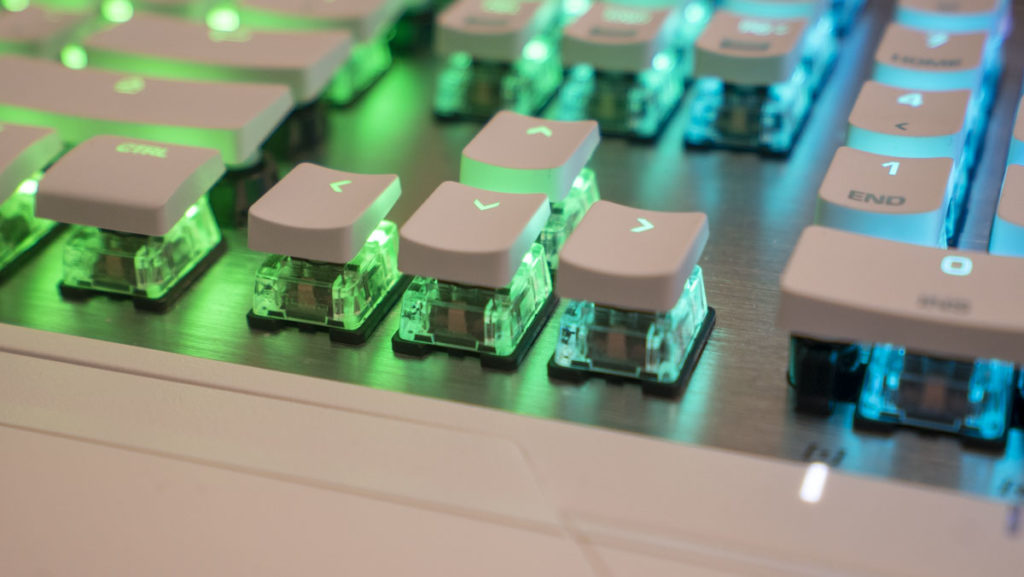 The actual structure of each switch also means that there is less wobble in each key, which I can confirm. They also don't sound as clicky as a Cherry MX Red or blue, which is also a bonus for someone like me, who type out reviews. For gaming however, you may like that clicky sound as a sound cue that the key has actually been pressed.
There is some fake digital sounds that you can overlay on top of each keystroke though in the Swarm driver. If that's something you wanted, the 'Click' or 'Typewriter' sound is probably best. Ignore the 'Beam' and 'Sci-Fi' sounds. They're headache enducing. Inside the Swarm app you can also set up your own macro keys if you need them. It's pretty basic compared to their mouse counterparts.

I very much doubt that this keyboard will appeal to the eSports market, but for those who would class themselves as "gaming enthusiasts" looking for a premium offering for their daily gaming sessions.
I'm a huge fan of the Roccat Vulcan 122 AIMO. So much so that I am confident in saying that it's one of the best keyboards out there. If you're a gamer, like a but of typing, and are in awe of RGB lighting in your setup, then look no further. Pair it with a compatible Roccat AIMO gaming mouse like the Kone AIMO or the Kain 200 AIMO that we've just reviewed, and your Roccat Vulcan 122 AIMO will come alive!

The biggest downfall is its price. It's expensive, coming in at £139 at time of writing on the Roccat website. It also has a pretty uncomfortable wrist rest too. But, if you've got some deep pockets, then you will not be disappointed in this keyboard's performance.