Who thought that a keyboard has a place on a mobile phone in 2021! Not me. But to my surprise, it's actually quite refreshing. Despite making this phone a bit of a chungus, the Cosmo Communicator and its physical keyboard are certainly not to be underestimated. It felt nice texting my friends in the group chat on a keyboard while on the move. This phone is certainly not going to be for everybody, and it's definitely going to have its place. I can't see them taking over iPhone any time soon, but to be honest, that's not what it's been designed for.

The Planet Cosmo Communicator feels as if it's going after that on-the-move worker. The type of person who finishes a meeting in the big smoke, goes to a local coffee shop and whips out their laptop to write up a report before making their way to the next meeting. So what actually is it? Is it a laptop? Is it a phone? Well, it's kind of both. It's a foldable device, but not like the Samsung style Flip and Fold. No, it has a screen on one side, and a QWERTY keyboard on the other! It's a chunky device too, coming in at 17.1cm wide, 7.93cm high and 1.73cm. It's not fitting into a pair of slim jeans, put it that way. It also weighs 326 grams, which on paper you're probably thinking it's heavy, but in reality, it's not. It's actually quite a nice weight.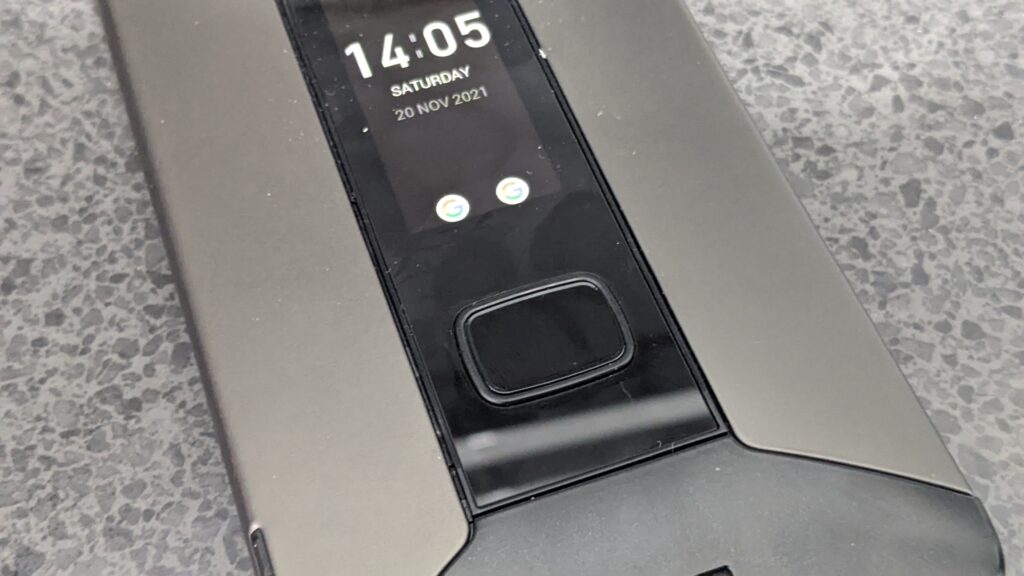 On the front, you can find a 1.9-inch screen that is used for basic settings, and it's pretty bright and easily readable for the time and your notifications. Above the screen is the camera, which we'll discuss soon, and underneath is a button/fingerprint sensor that opens a menu so you can access your contacts to make a call, the camera for front-facing selfies, a voice recorder and settings for the front screen. The back is just plain, there are no more cameras there and the sides are pretty bare too with the exception of the charging port USB Type-C at the bottom, a silver button which I think locks the device and another USB Type-C that supports OTG, which is essentially a way of plugging external devices like a mouse into the Cosmo Communicator. This will be particularly useful for when Linux Debian and Linux Kali become available.

But of course, the main attraction of this phone is the keyboard, which helps when typing out texts, composing emails and really doing anything else that requires typing. It's comfortable to some degree, but if you've got big hands, you're going to be tripping up over yourself. Also, finding all the symbols was a challenge. My version here doesn't have a prompt for the @ key, so I had to hold down Shift and click all the buttons on the keyboard until I found it. Spoiler alert, it's Shift+K. Why it's Shift+K is beyond me, but hey, it's kind of beyond me having a keyboard on a phone. It's got backlight key illumination so that's a bonus too if you're using it in unfavourable lighting conditions.
But this is also the Cosmo Communicators biggest downfall too. Android generally favours a vertical orientation, which has really been the standard for years now. This means that there are apps out there that do not like being turned horizontally. Mostly the social media ones, but who uses their phone for anything else these days right? It also makes answering calls super awkward if you receive a call with the phone open, as you'll be holding a super-wide device to the side of your head. The device also doesn't open flat either. There's a curve, similar to the effect you'd get on a laptop. It's decent at staying in place on a countertop though, and I had no issue with it tipping backwards.

The screen comes in at just under 6-inches which is enough real estate to happily bash out a word document. It's got a resolution of 2160×1080 which isn't the highest resolution by any stretch these days, but again, the 403ppi is enough to clearly see a word document or email. It offers multi-touch, which is a nice way to navigate, especially if you're wanting to select a section of text and it's covered in scratch-resistant glass.
Inside you can find a MediaTek P70 CPU alongside 6GB RAM memory and scored a pretty impressive 301 single-core score and 1,411 multicore score in Geekbench 5. Using the device was absolutely fine for my day to day usage, flicking through social media, and firing off a few emails and editing Google Drive docs. My touch typing skills were also pretty decent here too, if a bit squished. Watching media on Netflix and YouTube also offered a nice image quality and didn't stutter for me. There's a few unwelcoming pieces of Bloatware but for the installed Android 9, it's a relatively clean version. Diving into the settings and you've got a dedicated menu for the Cosmo, for adjusting the backlight and turning on power-saving modes on the front screen and even keyboard shortcuts, like FN+Space will activate the Google Assistant. While chatting about keys, you can navigate Android and the menus with the arrow keys, enter and escape keys to go back. The rest of the settings are very much on par with Android.

Battery life is alright, but it's going to last you around eight hours of solid use, which could be lengthened by turning off the keyboard backlight and reducing screen brightness. It's nowhere near current flagship handsets, but it'll get you through a working day. Not that you're going to want to work on this for long periods of time. I could see eye strain kicking in quickly as the screen is so small.
So, let's talk about the camera, but let's not talk too much about it, because it is HOT trash. It'll pass if you need it to grab a quick snap to reference in an email to colleagues, but you're not going to be rushing home to print and frame them. It's like those types of jobs that require you to inspect building sites or something, and you see them capturing photos to show the team back in the office, or to file away to say an inspection has been done. As I said earlier, it relies on the front facing cameras at all time, and these snappers capture images at 24-megapixel, and there's a 5 megapixel camera on the front, which will NEVER be used, as the screen that shows you the framing on the front is the laggiest screen I've seen on a mobile phone I think ever! But no one is buying the Cosmo Communicator for the camera, put it that way.

It's an alright phone, and feels like a big throwback to the Blackberry days and used their QWERTY keyboards to type on BBM, which to you Gen Z peeps, was Blackberry Messenger (God I'm old). The key selling point on the Cosmo is its keyboard, and the flexibility it gives business people on typing documents and emails. It performs well, and as I said I noticed no slowdown, but I'm not sure it's going to be a phone that appeals to the masses, seeing as there are phones like the Pixel 6 that's costing pretty much the same as the Cosmo. A nice idea, but too niche in the ocean of smartphones on the market.