If you didn't know, we do like to play games quite a bit! We regularly try out new games and also stream, over on the TechNuovo YouTube channel, and we like to have a decent setup, including good quality peripherals, to help us perform the best we can. Well ADX got in touch, with their Firefight MK02 RBG Gaming Keyboard, and we just had to try it out. ADX, possibly formally known as AFX, is an exclusive brand to Currys PC World, offering a number of gaming peripherals. The ADX Firefight MK02 is a mechanical gaming keyboard, complete with colour changing RGB lighting & KaiHua red switches.

The keyboard comes packaged in a large cardboard box, with a lid to the front and various features showcased on the packaging. Within the box is the keyboard and a palm rest that needs to be attached. The keyboard is constructed from metal, and it's got a decent weight to it, meaning it will stay in place while using it. It offers a very modest, simplistic design, with the odd curve here & there, but the RGB lighting under the keys is it's stand out aesthetic feature. It comes complete with a 1.8m corded USB cable attached to it and has a traditional QWERTY layout, utilising the 'FN' key to command various media functions.
The keyboard sits in at 45cm wide by 22cm high, including the wrist support, which is about average size but it's something to remember if you are limited on desk space. The wrist support is detachable, if it's not your cup of tea. The keyboard was very comfortable & easy to use, and for me, the support was a must & added to the experience.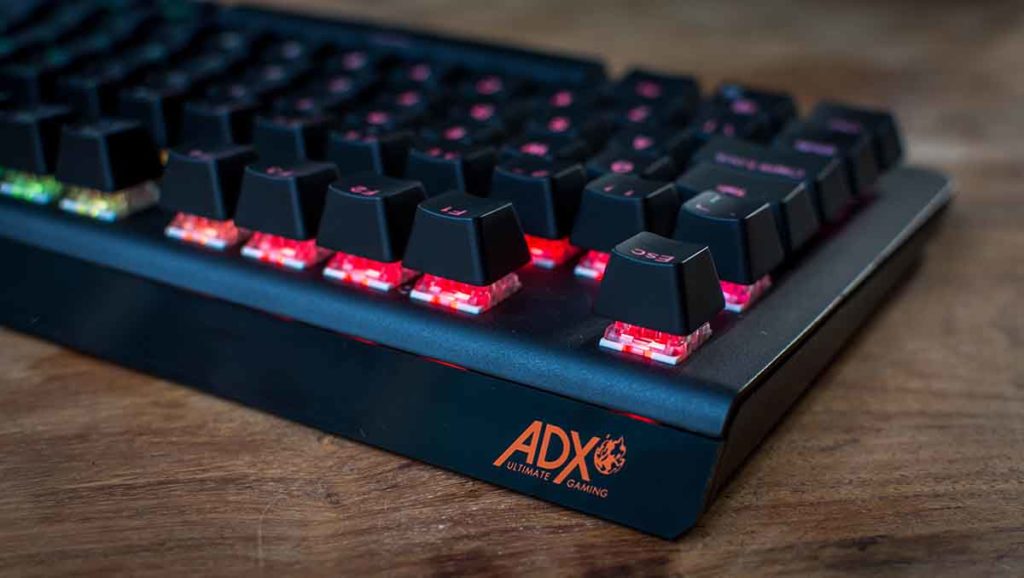 As with most things PC and gaming, it just has to have RGB lighting, otherwise, the masses may not even consider it. Well, this does have RGB lighting, underneath each key and it looks stunning. The default effect is a slow wave of colour change from left to right and it looks great. There are options to change the brightness and also the effect, using various different key commands. Use the FN key and F5 or F6 to adjust the brightness, and use FN plus 'insert' or 'delete' to change the various effects & colours. There are several effects and colours, varying from solid lights, to wave effects or rain drops. These effects are built into the keyboard, no need for any software and are some of the best I've come across.

This is a mechanical keyboard, using KaiHua red switches, which is a new type of switch to me, but resembles the common Cherry Red switches. The keys themselves are very tactile and responsive, and they give off a precise sound when you hit them, which is satisfying to hear. Thanks to the anti-ghosting of the keys, no matter how fast you play, your commands will be precisely followed.
Yes it's not covered in a big brands logo, but that didn't bother me in the slightest. I thought the keyboard was great and defiantly worth the RRP of just £49.99. I can't say it really improved my game much,  what can you do when you're already the best!
For more information and to purchase, visit the official Currys PC World webpage.