While everyone and their dog right now on the internet are looking at DJI's new camera gimbal offering, the DJI Pocket 2, we thought we'd be a little different and check out the Bero Snoppa Vmate Gimbal Camera. Because we're pretty edgy like that, and they also asked us. So there's that too.
The Snoppa Vmate Gimbal Camera is pretty much what it says on the tin. It's a little device that has a camera housed inside of a gimbal on the end of a small control box. The control box, or stick as I'm going to call it moving forward has a small screen to preview what you're shooting, and that's about it. It's fully touchscreen, giving off GoPro type vibes, and is very intuitive with its menu system. I not once felt like I was getting lost in miles and miles of complex menus.

When on the preview window, swipe right to left and you can centre the gimbal and swiping left to right opens up the functions menu where you choose between video, photo, pano, timelapse, slowmotion and night shot. From bottom to top brings up the quality menu, where you can select resolution up to 4K, frame rate up to 240fps if you're recording at 1080p, video codec and in greater detail, the calibration of the gimbal, storage options, the preview window and the direction of movement for the gimbal. Lastly, from top to bottom brings up your overall gimbal movement settings which include FPV, full motion, lock position, from left to right pans only and more. Most of the time I must admit I used the FPV mode.
Down the left hand side is a small rubber door, where your microSD card goes, and down the right you can find the record button which doubles up as power. Hold down to turn on the gimbal camera, and a single click to record once you're on the preview screen. It's all very simple to use. And what's nice about the Snoppa Vmate is the fact that there's no balancing involved like you'd find on bigger DSLR sized gimbals. Everything just works and it's ready to go straight away.


The whole thing is made to be very lightweight, which I will get into why in a moment. The handle itself has a soft but rubbery texture to it so you can easily grip it. I would have liked the handle to be a little bigger, so it's easer to hold rather than scrunching my fingers around such a small device, but I felt safe while whipping it round to capture a shot. There is a wrist strap loop just incase you drop it. Everything is well within reach though.

One decent thing here though is the fact that the protective case comes in two parts, and the base section doubles up as a mobile phone clip so you can connect your mobile phone to the unit itself and use the phone to hold while you film. There is a partner app available for when you do this. The clip itself is extremely sturdy and I had no reservations about it falling off while in use. Do be aware though that if you've got a case on your phone already, this will have to come off. The secondary case slots over the top of the first, but from the top to protect the gimbal. It's made from plastic, so won't protect it from great heights, but will certainly stop the lens from getting scratched. It's the most fiddly thing to put together too. It took me so many attempts to get the top case to marry up with the bottom mobile phone clip case section.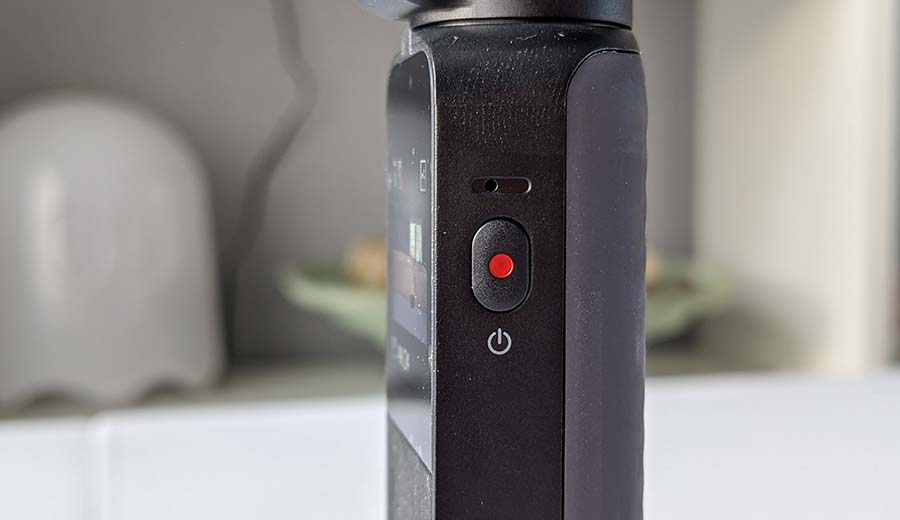 The lens itself is an 80-degree wide angle lens. The Snoppa Vmate is being branded as a vloggers best friend, and I am inclined to agree with this. Not only can you film what's in front of you, you can also film yourself with a click of a button. You can, if your vlogging desires, film both simultaeneously. There's also a dual microphone feature that does well in reducing noise from your video. It doesn't completely cut out background noise though, but it does in all fairness do a great job. What more, the Vmate app can also sync up audio to your phones's audio recording features, which means you can use Bluetooth microphones, headsets or even a small lav mic. And lastly, you TikTok users out there can film in vertical filming too as the gimbal offers a 90-degree turning feature. Just rotate the lens and you're ready to go. And if you want to put the Snoppa down, the gimbal offers face tracking too.
In terms of quality of video though, for a gimbal of this size, which uses your phone as a controller, it was pretty impressive to say the least. Most of my testing was done using the 4K at 24 frames-per-second quality, and for the most part, footage looked crisp. There was a bit of a oddity with the sky though, as it kept colour shifting depending on sunlight and what I was aiming at on the ground. At one moment, it looked bright blue and the next it had lost all colour and rendered white.

Another issue I faced was with the autofocus, especially in the selfie mode. I drew a box around my face, so the gimbal could track me as a subject, and it tried to focus hunt, switching between myself and the background. This was the only time though that the autofocus lost me. But there were also a couple of times I was walking and filming, and it lost focus. It quickly found it again through which was great. Subject tracking also lost me when something broke the line of sight between myself and the Vmate. And when I went out of frame and came back in, it couldn't detect me again.
And lastly, the footage recorded seemed to cut out and come back in again. It might be down to the fact the Snoppa Vmate couldn't keep up with the data recording or even the rapid movements of the head. When there was any fast movement, it glitched and came back in again once everything slowed down. Was very odd, and I couldn't find an answer for it during testing.
But, to be perfectly honest with you, I was pushing it to the limit a bit. The Snoppa Vmate is a quality bit of kit, that keeps your mobile footage looking nice and smooth, even when running. It beats footage from just handholding a your phone anyway. The quality is definitely on par with an action cam though. You're not going to be filming your next Hollywood blockbuster on one of these things, but you can certainly get some decent home movie footage. The camera can hit a maximum of 240fps too at 1080p, and I was pretty impressed with the quality of the slow motion. Do be aware though that under certain lighting, you will get that flickering effect.

For audio though, it's not the best, and the dual microphone setup reduced the background noise, it also muffled my voice quite a lot when speaking to the camera when comparing to my Google Pixel 4 XL. Granted, I wasn't in the busiest of environments, seeing as we're in lockdown, and had to stick to my garden, but I wasn't impressed with the audio quality that I managed to capture with my voice.
The Snoppa Vmate as I said before is a pretty decent bit of kit for any budding vlogger or TikTok influencer as long as you're not capturing audio through through the gimbal, as the microphone was pretty weak. Also, the fact they have thought about vertical video, as opposed to just horizontal 16:9 is a decent touch, and really makes the Snoppa Vmate a flexible when trying the get the perfect shot. A big letdown for me were the glitches in fast moving action. For smooth movement it was fine, but if you wanted to get a little crazy and start whipping the around, then you're going to miss some action. I especially love the ability to be able to hook it up to your mobile phone, as on its own, it's a small piece of kit. But with my Pixel 4 XL, I had a decent amount to hold on to. For more information, head over to the Snoppa website.