A little while ago we took a look at MSI's new keyboard offering, the MSI Vigor GK50 Low Profile. Six months later, we're greeted with a new keyboard in the Vigor range. It's full model name is the MSI Vigor GK50 Elite, and with it comes a couple of changes, the major one being the switches and keycaps.

£151.03
in stock
2 new from £114.50
as of August 28, 2021 19:11

The MSI Vigor GK50 Elite is pretty much housed in the same weighty chassis as the previous Vigor GK50 Low Profile. However, each key is a lot more separated, and actually takes on the form of full keycaps, as opposed to the skinnier, half key-cap style seen before. This gives the RGB a lot more prominent shine, as it's not blocked off by the keys. But, it also means that typing on this keyboard has a different type of feel, as the keys are a lot wider apart, and thanks to its new mechanical switches, keys need to travel further, and need a higher pressure to register a key stroke. But, that's not necessarily a bad thing, but more on that in a moment.
Underneath the keys is a brushed metal frontplate and a subtle MSI dragon logo just above the directional keys. The rear of the keyboard is still made from plastic though. Design wise it feels very modern and very sturdy. Unfortunately, keyboard flex has remained, especially if you go towards the centre of the product, but it's extremely minimal this time round. And unless you're really putting your weight into hammering the middle keys, you're not going to notice it at all.

So, let's get onto the most important change to the MSI Vigor GK50 Elite, and that's the mechanical switches. They're using Kailh Box White Switches, and compared to Cherry Reds as shown on their website, the switches require a lot less pressure to type, and has a smaller travel distance. It's acctuation point seems to be pretty high too before it begins to bottom out. For me, it creates a much nicer typing experience for sure. The switches just feel very solid.
A Kailh Box White switch is known for its clicky sound when pressed, which I absolutely love. It gives me a cue when I'm playing games that buttons are actually pressed. They're also lightweight, although not as lightweight as the Box Reds that are available on the same model keyboard, I had no problem spamming my keys to fire off talents inside of games, or peeking on a game of Valorant. The keycaps are slightly concave too, giving your finger tips a nice groove to fit into.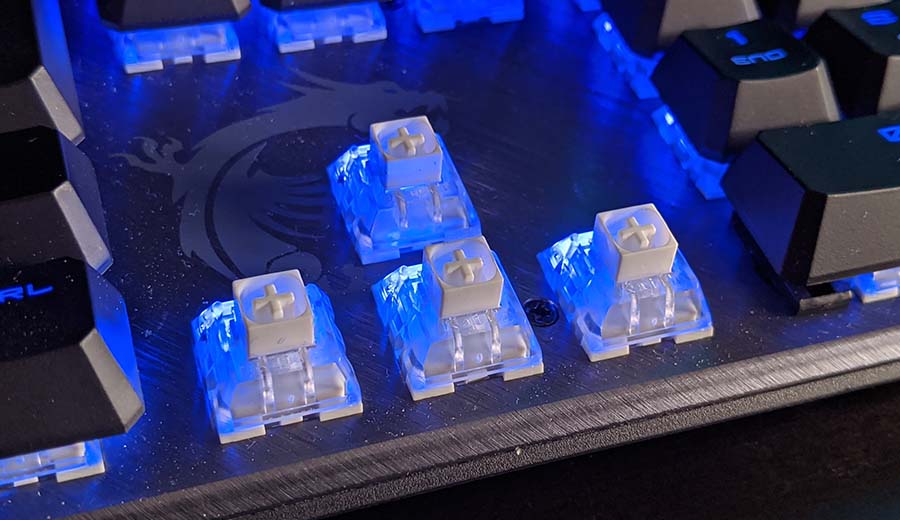 Box Whites are also IP56 rated, which protects them from moisture which is perfect for sweaty palms after long gaming sessions. You know what I mean, it's happened to you too! Box Whites also use the MX style stem that you'd be familiar with. You'll recognise it by the X shaped stem that runs through the key. However, the difference is the box that surrounds the stem. It also means that the keyboard will use SMD LEDs too, rather than the traditional 'through-key' LEDs.
But, as we mentioned the Vigor GK50 Low Profile earlier, as we tested that at the beginning of the year, we've got to compare the two right? The Low Profile has a 1.5mm pre-travel and 3.0mm total distance with an operational force of 50gf, and tactile force of 60gf. The new Elite with the Kailh Box Whites have a pre-travel distance of 1.8mm and a total travel of 3.6mm, an operational force fo 45gf and a tactile force of 55gf. Both keyboards feature a clicky type feedback, although the Low Profile has a higher tonal click than the Kailh Box Whites. Quite frankly though, both keyboard switches are so different from eachother, it really comes down to personal taste. I must admit though playing games, I preferred the surface area and the raised key caps of the GK50 Elite, while for touch typing, I would have stuck to the GK50 Low Profile.

Both keyboards we've tested now have access to the Dragon Centre driver, and this is where you can change your RGB effects to run through patterns, or per-key illumination. You've also got the chance to add macros too. When I first plugged in the keyboard, my 'Q' key was macroed to type 'iop', while the Num4 key typed 'wtf', so someone had definitely had this keyboard before it arrived on my desk. The Dragon Centre is a very simple software to work through. One of the simplest out there.
So, the MSI Vigor GK50 Elite definitely has its advantages to gamers, and more so if you're coming from the GK50 Low Profile. The whole thing feels very weighty with a high quality build, and it's the first time I've tried Kailh Box switches, and I think I'm a convert. Sure, the travel distance is higher than the previous GK50 Low Profile, and there's more of a thuddy clicky sound, but inside of games, the Elite performed superbly anyway. The MSI Vigor GK50 Elite can be found online from various retailers for around £79, which for me, is very fairly priced for the performance you're going to receive from this keyboard. Plus if Kailh Blue are more your thing, there's a version of the Elite that comes with those switches too. For more information, please head over to the MSI website.