Hot local singles no longer seem to want to meet me.
Welcome and thanks for joining the team here at TechNuovo. You could have gone anywhere else today, but you decided to come here and join us. That means a lot. Get the kettle on, have a cuppa, sit back and learn about me and my adventures in the world of VPN's. Maybe make that a strong coffee.
Let me start this "review" by coming clean, I rarely use a VPN. I am wild and out of control, slinging my data to anyone who wants it. I've got Facebook, Twitter and Instagram accounts, which means Mark knows exactly how long I spend looking at memes and watching Indians build pools at 3am, and he's selling it to the highest bidder.
This is why VPN's are becoming a popular option, a VPN stands for Virtual Private network and essentially it means it creates an encrypted tunnel between your computer and a server operated by the VPN company. Your web traffic flows through the tunnel and then exits onto the internet. That means anyone wanting to monitor what you and your network activity, won't be able to, nor will your ISP, because your true IP address is hidden.
You can also use them for fun things like changing to a US server to catch that show on a US-only streaming service, we can't get here in ole' Blighty. Even naughtier, take advantage of regional price differences on DRM free games. £20 for Cyberpunk from the GOG store if you're in Russia! (insert shocked face). What you do during your internet time is between you and the computer….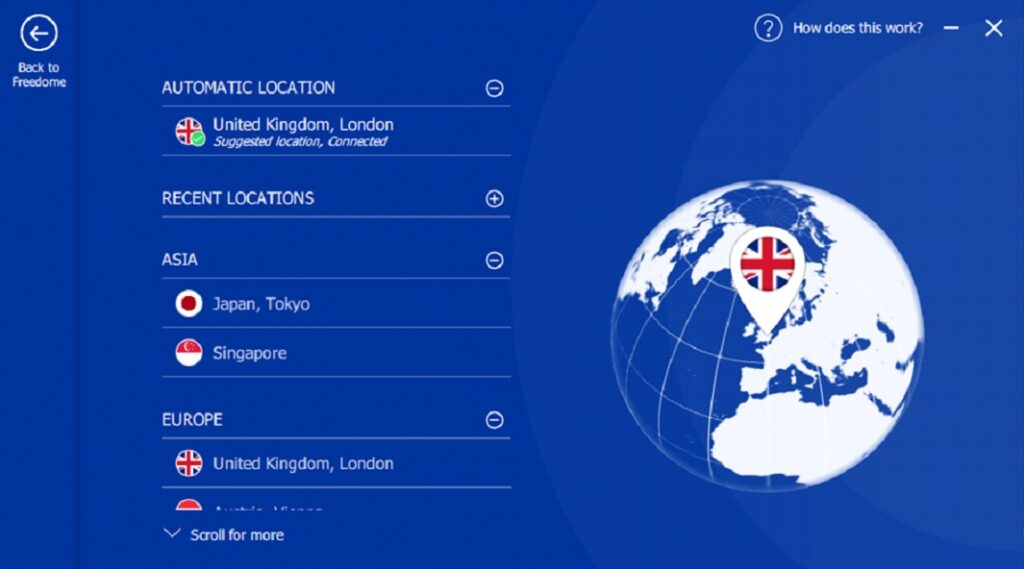 F-secure was kind enough to let us try their FREEDOM VPN and includes the following features:
Browsing protection: Explore internet and stay safe from harmful and dangerous web pages to ensure your security and privacy.
Public Wi-Fi protection: Your internet connection is secured so that no one can hack it when you use public Wi-Fi.
Trusted Wi-Fi networks: You can choose to bypass the VPN tunnelling in trusted Wi-Fi networks like your own home network on Android devices.
Whitelist apps that bypass VPN: On Android devices, you can choose that certain apps will always bypass VPN and have a direct connection to the internet. You may want to do this in case some specific apps are taking attempts to block VPN users.
Virtual location: Select your virtual location from over 20 countries to face less geo-restrictions and add an extra layer of privacy.
Tracking protection: Stop advertisers from tracking you and making money at the expense of your privacy.
Tracker mapper: Know where you are connected by recording all the connections your devices create during a 24-hour period.
Malware protection: Check your Android apps against malicious content like viruses, trojans, and ransomware.
Kill switch: Prevent accidental leakage of your data to the internet during momentary VPN outages. Available on Windows, Mac, and Android.
Protection statistics: See the amount of data you have protected using FREEDOME, including the number of tracking attempts and blocked websites.
Multi language support: You can select the best suitable product language among 20 supported languages.
Unlimited traffic: Enjoy browsing, downloads and other data traffic without bandwidth or data transfer limits.
Use on all your devices: Protect the internet use of all your Windows, Mac, Android, and iOS at home and while travelling.
To get started, all you need to do is visit their website and run the download. I then used an activation code from the F-Secure site after purchasing my package, and put that into the app to activate it. The costs are based on the number of devices and as usual, F-Secure don't have a monthly option, just annual. Prices start at £24.99GBP for 1 year and 3 devices and tops out at £69.99 for 7 devices and 2 years. Sure, it's a cheap service and I can see why VPN's go for upfront payments only, but sometimes you only want a month or two!
What devices is FREEDOME available on? Windows 7 (SP1), Windows 8.1, Windows 10, macOS 10.12 or later, iOS 11 or later, Android 5.0 or later. FREEDOME offers servers in 29 countries, which is ok but some other popular VPN's can offer up to double that amount.
The app itself is easy to use and navigate, with a big button to turn it on and the option to select countries. Unfortunately, the map isn't interactive but you can change it quickly and also avoid menus by right-clicking the icon in the system tray and selecting a country. While using FREEDOME, my internet speed seems to dip by around 10Mbps (as expected) when using it with your default server, change to other countries and obviously, this can vary depending on the distance and server used the lowest speed I got was 18.53Mbps when connected to Tokyo, Japan, with a 304ping. Closer to home the ping and speed get close to the stock speeds I receive of my 80Mbps. during peak times however with such high Ping's I wasn't able to use this for gaming in any positive way to try different servers on games.
Privacy concerns over F-Secure itself? They state "We do not share nor sell any of your traffic"; "We do not read your traffic"; "We do not know what traffic is yours." It looks like they keep logs for 90days as standard. Checking the Browsing protection will show you any blocked harmful websites that may have attempted to track you.
Ultimately this does what it says on the tin, it could do with more server options and the ability to pay monthly. It does however work well and is easy to use on both PC & smart devices, and I for one can see myself using it often for certain circumstances.
Should you wish to try it for free before you buy visit, there is a 5 day trial available via the official F-Secure FREEDOME webpage.