Okay, so a little while ago I made some content on the Wave XLR, the small USB audio interface from Elgato, and I finished that review by saying that I preferred the GoXLR purely for the fact that you could change your audio levels on the fly thanks to the sliders, rather than solely relying on the Wave Link software to do this. From that comment, Elgato got back in touch and said STEF! you need to check out the Elgato Stream Deck Plus! And they sent one out, and it's been on my desk for a decent amount of time now, and seeing how TC-Helion have stated that the GoXLR is no longer going to be supported, I wanted to make a video talking about my setup here, and how I'm now using the Stream Deck Plus and Wave XLR as my full-time audio interface for my content creation. Clearly, I scratched a nerve with that comment, but I'm so glad I did because this piece of kit is fantastic.
So let's talk about the Stream Deck Plus first. It follows suit of its older siblings, retaining the eight physical LCD button screens that can be programmed to various functions on your desktop. The buttons are nice though they do feel a little squishy when pressed. The standout feature over other Stream Deck products though is the inclusion of four dials at the bottom and touch bar, of which can be directly linked to your Wave Link software, or used as independent dials. They do rotate in increments and have a satisfying click to them when rotating. Now this is what Elgato wanted to point out to me in this regard over the GoXLR. With the GoXLR, you can use virtual audio inputs that can be assigned to the physical sliders on the mixer. Here with the Elgato Stream Deck Plus, you can use the Wave Link audio software, to install multiple virtual audio inputs onto your desktop, assign them a slot inside the Wave Link software, and then tell the Stream Deck Plus which dial you would like to use for which audio input. A bit of a mouthful that, but in reality, it's actually a very simple process to set everything up.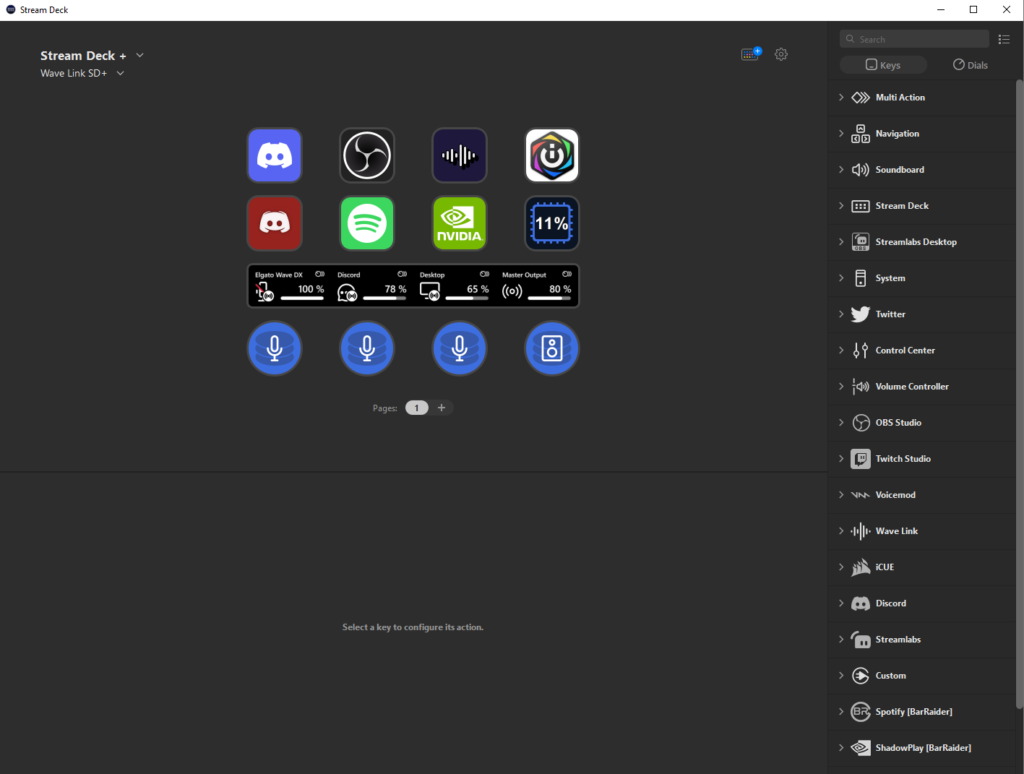 Inside the Elgato software, you can find pretty much the exact layout of your Stream Deck Plus, and from here you can find apps or functions on the right-hand side, and drag them over to assign to individual buttons. Additional apps by the way can be downloaded from the Stream Deck app store for things like YouTube, soundboards, Twitch and many more. As you can see from my example, I've set up folders with custom images with my settings under each piece of software I use, so if I dive into my Nvidia Broadcast button, you can see functions for starting a recording, capturing a highlight, turning on my webcam and more.

Across the centre screen, you can find four additional functions that can be matched with the Wave Link software, so you can manually control your individual audio sources on the fly, all without having to Alt+Tab out of your game and change within the software, which is very advantageous if say one of your teammates is kicking off and raging. You can just turn your Discord source down on the fly, or if you wanted to go a little more in-depth, you can assign individual users inside of Discord and manually adjust their volumes on the fly too! And again, setting these up is extremely easy. Just drag and drop the function you would like on the dial from the right-hand side, in this case, I would like my Discord audio on Dial 2. The input drop-down that appears on the dial settings directly correlates to those inputs you have set up in the Wave Link software. Choose which one you would like on there., and in my case, my Discord is linked between my monitoring and what the stream hears, so I've set it up as a dial stack so I can control them individually And what this means is I can click the dial in and switch between controlling my monitoring and controlling the stream output audio separately.
You'll also notice too on the Elgato Stream Deck software that there are additional pages you can add to your layout which is fantastic if you require a large amount of functions to be controlled via your Steam Deck. And when I say large, I mean massive. You could literally control every piece of software on your PC via hotkeys on the Steam Deck. Okay, that might be an exaggeration slightly, but there is literally tons of things you can do with this thing.

Look, the level of customisation here on the Stream Deck Plus is unprecedented. And there are so many ways that this gear can be used, it's not just for live streamers! If you have favourite macros set up for Photoshop or Premiere Pro for example, you can stick them in there and then add custom images or text to the buttons so you can recognise them with a glance. If you want to start your favourite audio track you can with the press of a button. If you want to open your web browser and go to a specific page, say some kind of news website or social media platform, you can set that up as a hotkey. It's just such a fantastic piece of gear that I for one absolutely love. It's got a stand which is fixed to the Stream Deck, but it angles the interface very nicely towards you, making it easy to see the functions in your peripheral vision. All it requires too is a single USB cable running to your desktop, and as I said at the start, I am also running the Wave XLR too for my microphone, and that also requires a USB cable to your desktop too. I don't use any of the controls on my Wave XLR anymore, I do everything on the Stream Deck Plus, which does raise another question for Elgato to think about. What if the Stream Deck Plus could also act as an audio interface and had its own physical inputs on there like an XLR for a microphone and a 3.5mm aux input on there for audio? It would completely negate the Wave XLR, making gaming setups even more compact. Now that, I'd like to see.

Thanks for watching this video. If you have any questions about the Stream Deck Plus, or if you're thinking of getting one yourself, leave a comment down below and I'll strive to get back to you with an answer. If you enjoyed the video, a like would be super appreciated, and if you want to see more from us at TechNuovo, make sure to subscribe to the channel. Thanks, everyone for watching, and I'll see you in the next video.