What do you think of when you think of Braun? Bet it's shavers, right? Hygiene products that belong in the bathroom? The last thing on your mind is going to be wireless speakers, that's for sure like it was for us. But when Braun reached out to us asking to test one of their new wireless speakers, the Braun LE03, well, we said yes of course, but we were also shocked that Braun even had speakers! That's because Braun hasn't made speaker products for a long time, like decades, which makes the LE range feel like some kind of comeback for Braun to the audio world. And, for the most part, they've succeeded. We're looking at the smaller of the three speakers in the range today, where the LE01 is the largest and widest, and the LE02 is somewhere in between that and the LE03 we have here.
The Braun LE03 is cube shaped, which I must say does look very stylish, and while it was sitting on my white unit in my lounge, it blended in very nicely. It stands at 170x170mm with a depth of 84mm which is relatively small. The sides are covered in a single piece of what feels like wood but is probably some kind of faux plastic and the edges are rounded, while the back reveals that the actual speaker enclosure is aluminium. The speakers inside consist of a single woofer with NdFe motor, a radiator drive unit and a passive radiator for a bit of umph. The speaker itself is capable of a 70Hz – 21,000Hz frequency response, and can support all forms of HD audio streaming thanks to its signal processor that can hit 96kHz/24-Bit audio.

On top you can find all the buttons you need including play and pause, volume control, a Bluetooth button to activate Bluetooth, a dedicated microphone button and funnily enough, a microphone mute button, which cuts all sound to the built-in microphones in this speaker for a bit of privacy. It uses the Google Assistant, and if you don't want it listening to you, then you can mute it. It's a feature that more speakers should have for sure! There are however no skip track buttons which is a bit of a shame. There's plenty of room on top to stick a couple more buttons up there.

Setup is done through a mixture of the Braun Audio app and the Google Home app. I had to answer some questions about speaker placement inside of the Braun app, like is it on a cabinet or on the floor, or is it sitting on its rubber feet on a cabinet under 30 centimetres away from a wall, it was all very involved and to be honest with you, I'm not quite sure how much difference it would actually make. Moving onto Google Home was a bit more fiddly though, as while the speaker could be found by my phone and network, pretty much straight away, the two just wouldn't soundly pair together. Easy work around though. I hard reset the speaker using a pin, and low and behold, it connected straight away with no trouble whatsoever. This was probably down to the fact I had received a review unit, so someone must've set it up before it got to me. Take note though, that if you move networks, move house or something similar, you'd need to follow the same process.
Once setup is done through the Google Home app, the Braun LE03 works like any other typical wireless speaker. You can cast to it, make music from Spotify play directly through it, and once it's on your wireless network, other people can do the same too without the need for extra setup on their phones. The great thing about it though is how seamless everything went to set it up once I reset the speaker itself. It was easy, and everything I needed to do to setup the speaker was prompted on screen. Being part of the Google Home app also means that the Google Assistant is available to you.

Inside the Braun app though, things are pretty bare and basic. The home screen allows you to switch between the different speakers available from the Braun family if you have more than one speaker of theirs, and once you click into each individual speaker, you get treble and bass control. These however didn't make a huge difference to the overall audio experience. Well, the bass slider didn't anyway and I kept this just below my treble level. Treble I swiped it all the way up to the top to bring out that high end detail.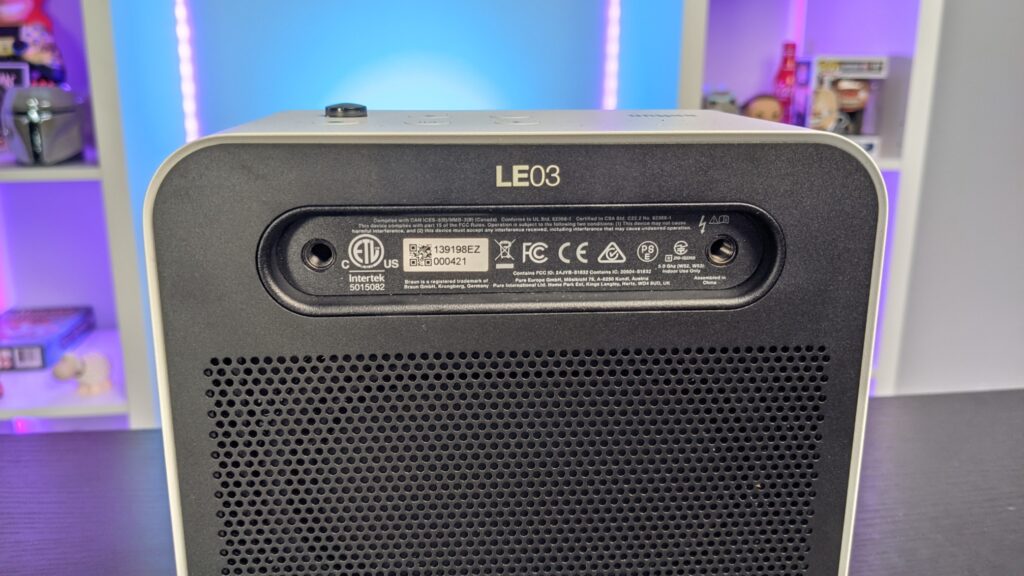 And for the most part, the Braun LE03 can hold its own, especially when it comes to clarity in the high tones and middle frequencies. It loses out a bit with the amount of bass it can produce, but it's no where near lost. Listening to your favourite hiphop tracks will certainly be a pleasant experience as that kick drum bursts through, and it's incredibly controlled. Add in a decent amount of separation between instruments and vocals and you've got a pretty decent little speaker. Do bare in mind the size of the unit. This is definitely a speaker you'd stick in the kitchen to listen to some background music while cooking, or even in the bedroom to stick some ambient sounds while dropping off to sleep. At higher volumes, the LE03 becomes a little hard to listen to. Not because of distortion, it controls that very well. But purely because of how focussed it is on its mids. It's almost ear-piercing as that bass thump gets muddied within the rest of the frequency range. At top volumes you're going to experience a bit of distortion too. The speaker unfortunately just can't handle it. If you're looking for something to use as a mid-volume portable speaker, you can't really go wrong here, and it looks smart as hell as well, very modern for a kitchen speaker. I can't talk about the larger speakers in the Braun range however, but just looking at the sheer size of the LE01, chances are it'll handle these higher volumes better.

The Braun LE03 wireless speaker is an all round decent bit of kit, that not only looks super modern, but actually sounds great too for your mid-volume background music type experiences. I wouldn't recommend it for a full blown house party though due to that lack of clarity at higher volumes But, Braun offer bigger speakers in their range to handle such affairs, so if you're wanting big loud sound, go for the bigger speaker. The Braun LE03 retails online for around £349 at the time of writing this review, which okay is a little on the pricey side, seeing as SONOS are kicking out their wireless equivalent for a little more, but still, I do prefer the boxy retro look of the LE03.