Having a travel tripod has saved me and my photography in more ways than one. Want to catch that perfect landscape shot using a low shutter speed, or need to present to camera without all that handheld shakiness? Then maybe something as light as the Manfrotto Befree Advance travel tripod is for you.

The Manfrotto Befree Advance is a tripod made from aluminum and weights around 3.5lbs, making it super light to strap to your backpack, or even carry around in your hands. There's even a grip about a third of the way down one of the legs for easy gripping as well as a hook for either a counterweight or a carrying strap.

The legs open into three stages. While closed the tripod's length is around 40cm. When opened though, your tripod will stand at roughly 1.5 meters. There's also a height adjustable arm leading from the legs to where the camera sits on top. Where the legs meet is something that Manfrotto are calling the Easy Link, which is essentially a 3.8″ screw hole for photography accessories.

The legs on the model we were sent secure in place via clips, but there is a screw variation available too if that's more your thing. The legs fold down using metal mechanisms at the very top. Just pull down the clips and fold the legs back on themselves. The actual movement from the legs is very stiff, which is tough to fold at times, but also great to ensure maximum sturdiness while in use. The legs can be clipped in place at 22, 55, and 90 degree angles. Of course you don't want your camera moving when you're doing those long exposure water shots.

On top is Manfrotto's 494 Ball Head which is insanely smooth. If you're on uneven terrain, then the ball head really comes in useful to level out your shot. No spirit level is present though which I found a little strange for their products, so I had to rely on my camera's internal level. Not a big deal though. The camera plate secures to the head with two mechanisms. The first rotates, fixing a lip of the plate in place, while the second mechanism holds the first one in place. It saves you from accidentally swiping the first mechanism as everything locks.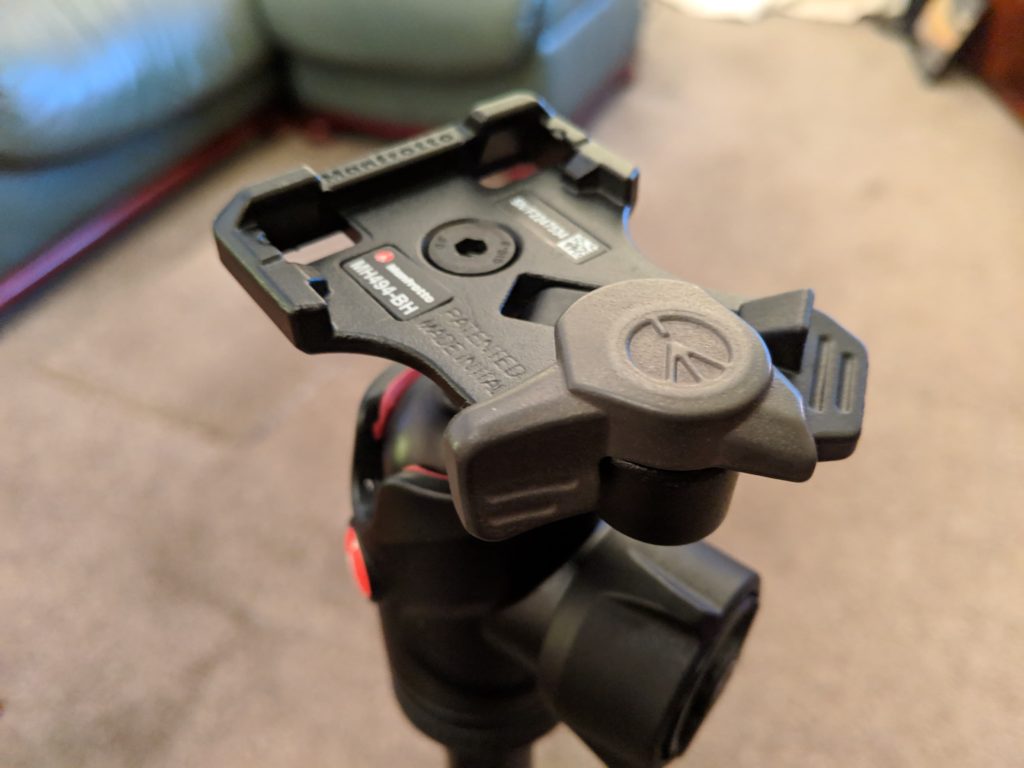 There's no hiding the fact that this tripod has been designed to be used with mirrorless cameras. However, saying that, using it with a Sony A7RII with a 16-35 lens made me feel a little nervous as the camera can get heavy. I would be happier mounting something like an A6500 with a smaller APS-C lens on top. One strong gust of wind and I felt my A7RII would topple over.

Though saying that, if you're a small compact mirrorless camera shooter and you're after a travel tripod that's light, easy to carry, and has some very smooth workings like the legs and plate mechanism, then look no further. The Manfrotto Befree Advance is just waiting to be added to your photography kit.